God's Eighth Covenant with Man
Christ, God's Son c. 33AD.
Index
Annunciation
In the sixth month, the angel Gabriel was sent from God to a town of Galilee called Nazareth, to a virgin betrothed to a man named Joseph, of the house of David, and the virgin's name was Mary. And coming to her, he said, "Hail, favored one! The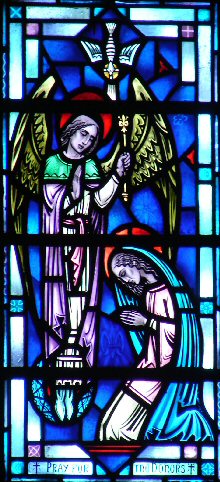 Lord is with you. But she was greatly troubled at what was said and pondered what sort of greeting this might be. then the angel said to her, "Do not be afraid, Mary, for you have found favor with God. Behold, you will conceive in your womb and bear a son, and you shall name him Jesus. He will be great and will be called Son of the Most High, and the Lord God will give him the throne of David his father, and he will rule over the house of Jacob forever, and of his kingdom there will be no end." But Mary said to the angel, "How can this be, since I have no relations with a man?" And the angel said to her in reply, "The holy Spirit will come upon you, and the power of the Most High will overshadow you. Therefore the child to be born will be called holy, the Son of God." (Luke1:26-35)

The Birth of Jesus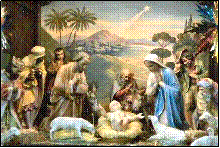 While they were there, the time came for her to have her child, and she gave birth to her firstborn son. She wrapped him in swaddling clothes and laid him in a manger, because there was no room for them
in the inn. (Luke 2:6-7)

Now there were shepherds in that region living in the fields and keeping the night watch over their flock. The angel of the Lord appeared to them and the glory of the Lord shone around them, and they were struck with great fear. The angel said to them, "Do not be afraid; for behold, I proclaim to you good news of great joy that will be for all the people. For today in the city of David a savior has been born for you who is Messiah and Lord. (Luke 2:8-12)

Index
Christ announces the New Covenant
At the Last Supper
"Take this and eat it," he said, "this is my body." Then he took a cup, gave thanks, and gave it to them. "All of you must drink from it," he said, "for this is my blood, the blood of the covenant, to be poured out in behalf of many for the forgiveness of sins. I tell you, I will not drink this fruit of the vine from now until the day when I drink it new with you in my Father's reign."
(Matthew 26:26-29)

While they were eating, he took bread, said the blessing, broke it, and gave it to them, and said, "Take it; this is my body." then he took a cup, gave thanks, and gave it to them, and they all drank from it. He said them, "This is my blood of the covenant, which will be shed for many. Amen, I say to you, I shall not drink again the fruit of the vine until the day when I drink it new in the kingdom of God." (Mark 14:22-26)


Then, taking bread and giving thanks, he broke it and gave it to then, saying: "This is my body to be given for you. Do this as a remembrance of me." He did the same with the cup after eating, saying as he did so: "This cup is the new covenant in my blood, which will be shed for you." (Luke 22:19-20)


Terms of the New Covenant
Strive To Be Perfect As Your Heavenly Father is Perfect.

Index
How do we Achieve this Perfection?

First Way:
By regular and active participation in the Mass for it is the renewal of that same eternal covenant Christ made with the apostles at the Last Supper. (It's all there!)

Prayers of the Consecration at Mass
"At the time he was betrayed and entered willingly into his Passion, he took bread and, giving thanks, broke it, and gave it to his disciples, saying:


Take this, all of you, and eat of it, for this is my Body, which will be given up for you."


"In a similar way, when supper was ended, he took the chalice and, once more giving thanks, he gave it to his disciples, saying:

"Take this, all of you, and drink from it, for this is the chalice of my Blood, the Blood of the new and eternal covenant, which will be poured out for you and for many for the forgiveness of sins. Do this in memory of me.

"To all of us, your children, grant, O merciful Father, that we may enter into a heavenly inheritance with the Blessed Virgin Mary, Mother of God, with Blessed Joseph, her Spouse, and with your Apostles and Saints in your kingdom. There, with the whole of creation, freed from the corruption of sin and death, may we glorify you through Christ our Lord, through whom you bestow on the world all that is good.

"Through him, with him, and in him, O God, almighty Father, in the unity of the Holy Spirit, all glory and honor is yours, for ever and ever.


"Behold the Lamb of God, behold him who takes away the sins of the world. Blessed are those called to the supper of the Lamb.

All: "Lord, I am not worthy that you should enter under my roof, but only say the word and my soul shall be healed."
We are privileged to participate personally in the renewal of this eternal covenant at every Mass we attend.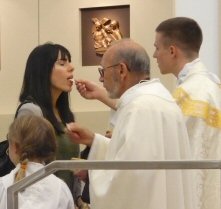 The Sacrifice of the Mass is the renewal of the new and eternal covenant consummated when Jesus Christ, the second person of the Holy Trinity, took on our human nature through Mary and offered himself to His heavenly Father as a sacrificial victim in satisfaction for the sins of pride and selfishness against Our Father's love.
This eternal sacrifice by Jesus, the Son of God, and our reception of the actual of His body and blood is a mark of the Trinity's love for us and expresses its desire through the priest's actions to strengthen us daily in life and merit eternal life with the Holy Trinity in Heaven.
Second Way
The Holy Spirit offers his gifts to us prompting us to be holy!

a. Wisdom - To find joy in the things of God and judge everything according to God's standards.
b. Understanding - Helps me to grasp and appreciate the mysteries of God's love for us all.
c. Counsel - Helps me to see what is best for the glory of God, for mine and my neighbor's salvation. Supernatural common sense.
d. Fortitude - Permits one to face the evils he dreads.
e. Knowledge - Helps me to recognize the value of created things as they point toward God.
f. Piety - Helps me to love and respect God out of love rather than duty.
g. Fear of the Lord - Helps to respect and follow God's laws because he is our father rather than out of fear.
Third Way
Using these gifts will bring these results:
Fruits of the Holy Spirit - Result from our cooperation with the Gifts of the Holy Spirit. Good attitudes are formed which encourage us to practice the following:
a. Charity – Actions driven by love for God and neighbor.
b. Joy – Helps a person serve God cheerfully.
c. Peace – The mind is untroubled in face of spiritual or temporal trials.
d. Patience – Bear the trials of life with resignation to God's will, not giving in to sadness.
e. Benignity – Kindness, gentleness, sympathy, wishing well for others.
f. Goodness – Something is pleasing because its worth and value flows from God.
g. Long-suffering – Christian endurance of evils over a long period of time out of love for God.
h. Mildness – Gentleness but not softness without strength.
i. Faith – Believe all that God has revealed because he can neither deceive nor be deceived.
j. Modesty – Moderation in all things, behavior and dress, respect for one's worth.
k. Continence – Voluntarily with one's partner abstain from legitimate marital intercourse.
l. Chastity - Single persons must exclude all indulgence in and voluntary pleasure from the sexual act. - Married persons must control the sexual appetite according to right reason. Intercourse between husband with lawful wife is chastity.
Visit Christ, soul and divinity sacramentally present in every church.

Miracle of Lanciano Oh my Jesus, forgive us our sins, save us from the fires of hell, lead all souls to Heaven,
especially those in most need of your mercy. Fatima Prayer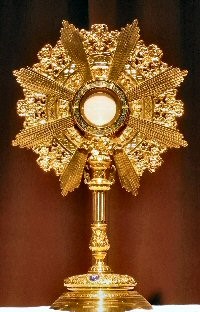 <![if !supportLineBreakNewLine]>
<![endif]>